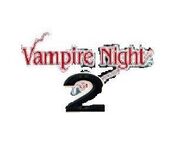 Vampire Night 2
is a 2007 horror film that takes place seven years after the first film, and is about another army of vampires who plan getting revenge on Smokey and Woody (the two vampire hunters) for their activities in the previous film. In order to conduct their plan, the army of vampires, monsters, and demons head over to the nearby city of Denver, Colorado and begin to attack the city folk as the two vampire hunters eliminate them. The main antagonist of the film is also revealed to be the brother of Count Ruchus (the main antagonist of the first film), and was trying to avenge his brother's death by killing the vampire hunters. A light gun arcade game adaption based on the film was developed by Namco, and was released for the arcade and the Sony Playstation 3 (which is compatible with the "Guncon" light gun).
Vampire Night 2

Directed by

Frank Borris

Produced by

Ulysses Tame
Frank Borris

Starring

Daniel Lowmack
Anthony Michael Hall
John Leguizamo
Tyler Mane
Chuck Norris


Music by

Danny Elfman

Distributed by

20th Century Fox

Release Date

July 6, 2007

Running time

95 minutes

Language

English

Preceded by

Followed by
Ad blocker interference detected!
Wikia is a free-to-use site that makes money from advertising. We have a modified experience for viewers using ad blockers

Wikia is not accessible if you've made further modifications. Remove the custom ad blocker rule(s) and the page will load as expected.