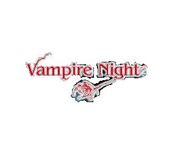 Vampire Night
is a 2000 horror film about a savage army of vampires, monsters, and demons that invade a suburban village in northern Colorado as they kill the people living there. Meanwhile, two vampire hunters carrying pistols arrive at the village to protect the citizens from the threat of the vampires. As they maneuver throughout the village, the come face to face with the key members of the vampire minions and are forced to kill them all as they each go after them one at a time. A light gun arcade game adaption based on the film was developed by Namco, and was released for the arcade and the Sony Playstation 2 (which is compatible with the "Guncon" light gun).
Vampire Night

Directed by

Frank Borris

Produced by

Frank Borris

Starring

Daniel Lowmack
Anthony Michael Hall
Mark Hamill
Simon Wallace
Mae Whitman

Music by

Danny Elfman

Studio

Blood Nest Productions

Distributed by

20th Century Fox

Release Date

September 22, 2000

Running time

94 minutes

Language

English

Followed by
Ad blocker interference detected!
Wikia is a free-to-use site that makes money from advertising. We have a modified experience for viewers using ad blockers

Wikia is not accessible if you've made further modifications. Remove the custom ad blocker rule(s) and the page will load as expected.