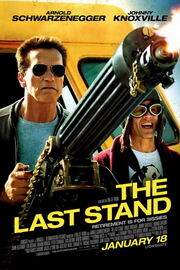 The Last Stand
is a 2013 action film featuring a deputy known as Sheriff Ray Owens, who has resigned himself to a life of fighting what little crime takes place in sleepy border town Sommerton Junction after leaving his LAPD post following a bungled operation that left him wracked with failure and defeat after his partner was crippled. After a spectacular escape from an FBI prisoner convoy, Gabriel Cortez, the most notorious, wanted drug kingpin in the hemisphere is hurtling toward the border at 200 mph in a specially outfitted car, a Chevrolet Corvette C6 ZR1, with a hostage and a fierce army of gang members. He is headed, it turns out, straight for Summerton Junction, where the whole of U.S. law enforcement will have their last opportunity to make a stand and intercept him before he slips across the border forever. At first reluctant to become involved, and then counted out because of the perceived ineptitude of his small town force, Owens ultimately accepts responsibility for the face off.
The film is Arnold Schwarzenegger's first leading role since "Terminator 3: Rise of the Machines" in 2003. This is the first American production for Kim Ji-woon and cinematographer Kim Ji-yong as well as composer "Mowg".
The Last Stand

Directed by

Kim Ji-woon

Produced by

Lorenzo di Bonaventura

Starring

Arnold Schwarzenegger
Forest Whitaker
Johnny Knoxville
Rodrigo Santoro
Luis Guzmán
Jaimie Alexander
Eduardo Noriega
Peter Stormare
Zach Gilford
Genesis Rodriguez

Music by

Mowg

Editing by

Steven Kemper

Studio

di Bonaventura Pictures

Distributed by

Lionsgate

Release Date

January 18, 2013

Country

United States

Language

English
Ad blocker interference detected!
Wikia is a free-to-use site that makes money from advertising. We have a modified experience for viewers using ad blockers

Wikia is not accessible if you've made further modifications. Remove the custom ad blocker rule(s) and the page will load as expected.