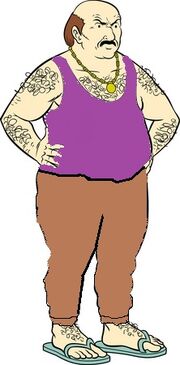 Tasty Town
is a 1996 animated comedy film which marked the first appearence of the "Aqua Teen Hunger Force" main characters such as Master Shake, Frylock, Meatwad, and Carl. The film revolves around the characters in their home town of "Tasty Town" as they go after an evil scientist named Dr. Weird who tries to take over the world using a series of inventions that he creates, along with the help of his lab parter assistant. That paticular scientist would also appear in the TV show "Aqua Teen Hunger Force" at the beginning of each episode trying to get revenge on the ATHF after his fate in this movie.
Tasty Town

Directed by

Matt Maiellaro
Dave Willis

Produced by

Matt Maiellaro
Dave Willis
Ned Hasting
Christian Duguay

Starring

Dave Willis
Carey Means
Matt Maiellaro
C. Martin Crocker

Music by

Michael Kohler

Editing by

Jay Wade Edwards

Studio

Williams Street

Distributed by

New Line Cinema

Release Date

March 1, 1996

Running time

104 minutes

Language

English
Ad blocker interference detected!
Wikia is a free-to-use site that makes money from advertising. We have a modified experience for viewers using ad blockers

Wikia is not accessible if you've made further modifications. Remove the custom ad blocker rule(s) and the page will load as expected.