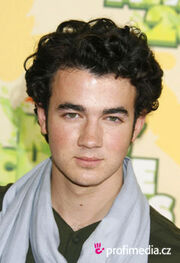 Paul Kevin Jonas II (November 5, 1987 - January 12, 2015) was a singer and songwriter known for his role as the oldest member of the music trio known as the "Jonas Brothers", which also included his real-life brothers Joe and Nick Jonas.
On the evening of January 12, 2015, Kevin Jonas was found unresponsive in his hotel room in Little Rock, Arkansas, where he had been scheduled to perform there. He was taken to a local hospital where he was pronounced dead less than an hour later. An autopsy later revealed the cause of death to be cardiac arrest. His body was cremated and his ashes were given to his brother Joe Jonas. He is survived by his wife Danielle and their 11-month-old daughter.
Ad blocker interference detected!
Wikia is a free-to-use site that makes money from advertising. We have a modified experience for viewers using ad blockers

Wikia is not accessible if you've made further modifications. Remove the custom ad blocker rule(s) and the page will load as expected.